Polar 4.0 with RAH and Rayoscan (Non Med))
Polar 4.0 is the top-of-the-line bioresonance device developed by Rayonex. Meeting all EU requirements for Class IIa medical device, it is ideal for treating root causes in addition to symptoms of ill health. It operates on the principle that all organisms are regulated by frequencies, and the correct resonating frequencies can induce normalised self-regulation.
PS1000 Polar 4.0 with RAH and Rayoscan comes with the automatic, ECG-based analysis system for resonance frequencies.
Outstanding features include:
Super fast RAH, with 1-second loading time, making for efficient testing and program selection;
Rayoscan hardware and software;
New operating system and more powerful CPU for future developments;
Capability for software updating over the internet;
Easy printing of hard or soft copy reports with drivers for HP, Canon or Epson printers;
Adjustable background screen colours;
Integrated training videos.
Warranty: 1 year
We provide full training for use of the device, testing and harmonisations.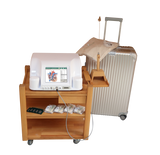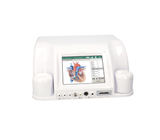 More from this collection